Former Mailing List SSRMP (obsolete)
This list has been deleted
Mailing lists are set up to improve communication between SSRMP members. This may be communication between all members, members of working groups open to all society members, or groups on invitation only (e.g. the board). Only subscribed mailing list members can read/post messages. New subscriptions need to be approved by the.
If you want to participate or change your settings, click on this link. As the screen dialogue is in German, translated screen shots (without function!) are provided below.

Click on "Anmelden xxxx" to get to the subscription screen

If you are already subscribed, you have to enter your e-mail address and password to be able to modify your settings, including your e-mail address. If you had not entered a password during subscription, leave the password field empty. Click on the button to get to the menu screen

Forgotten your password? Just enter the mail address you are subscribed with, and it will be sent to this address.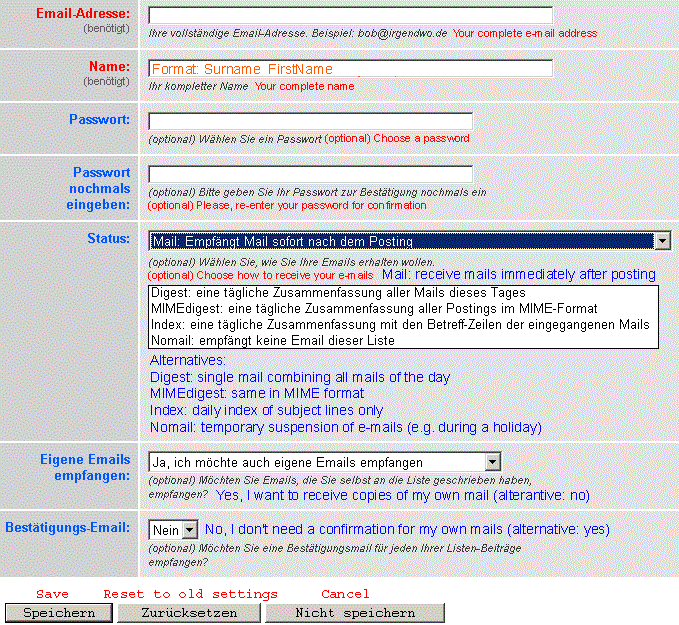 Mail address and name are compulsory. Please use the format indicated on the screen shot for your name – this allows the list administrator to perform the maintenance more easily. It is optional, though highly recommended that you enter a password. Should you ever forget your password, it can be sent to your subscription address. The main alternatives for "Status" are Mail (receive all mails immediately), Digest (receive a daily summary, i.e. only 1 mail per day), or Nomail (suspend mail delivery during a holiday). Reason for Nomail: this status setting you can reverse yourself any time; after unsubscribing you would have to subscribe again – which needs to be approved by the list administrator, and may cause a delay.
The menu screen allows you
to …

Read old mails on the web archive


(has unfortunately been deactivated).
Write new mails, using the web interface instead
your mail program.
Modify your settings (identical to the subscription screen,
with old settings as default).
Unsubscribe – which you should NOT do if you
just don't want to receive mails temporarily (see
"nomail" option in your status).